Written by: Fazela Haniff
May 13, 2021  In the past year, since the COVID pandemic was declared, several articles, webinars and even books from distinguished academics and administrators have addressed how to shift the business of reengineering academic institutions to tackle the loss of income of international students.
Almost all higher education institutions have initiated online learning,  some have shifted to total online learning, and others have tried to mix teaching mediums to address their international student population.
Of late, with the increase of COVID vaccination numbers, many are jubilating about expedited visa processes to assist international students' return.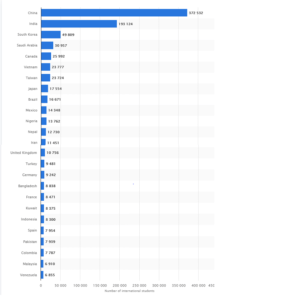 Source: International students in the U.S., by country of origin 2019/20 | Statista
In looking at the data from International students in the U.S., by country of origin 2019/20 | Statista, of the 850,390 international students, 725,237 are from Asian countries, and 88,730 are from non-western countries, and only 36,423 are from western countries like Canada, UK, Germany and France. A total of 813,967 are People of Colour (POC) students. Given the current awakening of the racial climate in the USA, are universities developing any plan to help these students deal with this reality when they land in the USA?
There is a lot of traction to increase visible minorities in the university structures and International Offices, and that is a good thing if it is not a window-dressing exercise.  However, the appointment of such individuals does not equate to transformation or address the institution's historical culture. Hopefully, there is a plan that will take these institutions and departments to that place of equity.  However, in the meantime, when these POC international students arrive, do their induction covers the current reality, with the backdrop of #BlackLivesMatter, #StopIsianHate #Islamophobia?
I will give a small short example of what makes me think of this situation. As the Wits International Office director at the University of the Witwatersrand in Johannesburg, South Africa (2006-2011), I developed an emergency on-call mobile service for international students during heightened Xenophobic situations students from other African countries were being arrested and harassed by the locals and the local police.  We gave the Students an emergency number to call or send a text if they were falsely arrested or felt at risk. I remembered one of my managers had to take a copy of the student's passport and visa to the police van on route to the police station to get the student released.
While I am not aware of what systems are in place to assist their POC international students, I hope this is on the minds of every director of the international office across the USA. What are the calming messages they are giving parents sending their loved ones to a country where the BIPOC community is at risk in a different type of pandemic?

Fazela HANIFF is an HR, OD and HE internationalization specialist and serves on ACEI's Global Consulting Group.  Ms Haniff completed her Human Resources Management studies at Ryerson University, Higher Education Management from the University of the Witwatersrand and Bachelor of Business Administration from Yorkville University. She is the Past President of the International Education Association of South Africa and first woman president. In 2010 she received an award in recognition of "Exemplary Leadership as IEASA President". She has contributed widely to the internationalization dialogue via presentations and workshops to IIE, NIEA, NAFSA, EAIE, EAIE, IEASA, APAIE, and contributed to numerous publications related to international higher education. Fazela currently lives in Toronto Canada.   fazela@acei-global.org  www.acei-global-consulting.org

The Academic Credentials Evaluation Institute, Inc. (ACEI), was founded in 1994 and is based in Los Angeles, CA, USA.  ACEI is a full-service company providing complete and integrated services in the areas of international education research, credential evaluation, and translation. ACEI's Global Consulting Group®, offers expertise in the following specialties: Media and Branding, Global Pathways, and Diversity, Equity and Inclusion (DEI) to interested institutions and organizations around the globe. www.acei-global.org