January 7, 2021
Based on Dr. Monique W. Morris' groundbreaking book of the same name, Pushout: The Criminalization of Black Girls in Schools confronts the continuing criminalization and miseducation of Black girls in the United States, who are the fastest-growing population in the juvenile justice system with alarming dropout rates due to this systemic mistreatment.
In the wake of the Columbine Tragedy, schools adapted (and still adhere to) a "Zero Tolerance" initiative that dictated children be removed from schools for first-time transgressions. This included minor offenses such as cursing, truancy, and disruptive behavior. What used to warrant a simple trip to the administrator's office now results in extreme measures such as suspension, expulsion, and in some cases arrests, feeding into the school-to-prison pipeline. In an environment where they are punished rather than rehabilitated, youths are more likely to drop out in response, particularly Black girls who disproportionately experience harsh discipline at every educational level. Pushout exposes the disproportionately punitive responses they face and challenges the current policies, practices, and willful ignorance that continue to repress their potential and push them into unstable futures.
If nothing changes, the cycle of expulsion and incarceration will continue with dire results as Black girls continue to suffer under the narrow and problematic expectations society has imposed on them. 25% of Black women live in poverty. They earn 89% of what Black men earn and only 64% of what White men earn. Black women are disproportionally employed in low wage occupations and are about three times more likely to be imprisoned than white women. One in nineteen Black women will be incarcerated at some point in her lifetime. Black girls in this country are struggling.
The heart of the film comes from the illuminating interviews with several Black girls about their personal experiences of being judged and degraded by the very institutions that are supposed to help them flourish. Some of the girls are as young as seven and have already experienced discrimination firsthand. Hearing from them provides a crucial examination of the unique challenges they face due to prevailing cultural beliefs that hold them back such as the perception of them as "more adult" than their peers, classifying them as "ghetto", or earmarking them as difficult merely because they fail to automatically defer to authority. Multiple educational experts also outline systemic barriers while pointing towards real solutions that can short circuit their current over punishment.
Revealing the daily struggles of Black girls and the dehumanizing practices they regularly face in the classroom, Pushout has sparked meaningful discussion among communities and policymakers and become an inspirational, must-see documentary. Policymakers at the federal, state and local levels have responded favorably to the film as a much-needed tool to raise awareness about the necessity for educational equity and dismantlement of the school-to-prison pipeline. Inspired by the film, a significant development in that effort is the ENDING PUSHOUT ACT of 2019 (HR5325), a federal bill introduced in December 2019 by Representatives Ayanna Pressley (D-MA), Ilhan Omar (D-MN), and Bonnie Watson Coleman (D-NJ). The film has won numerous film awards across the country.
Pushout is an ideal model for creative activism and can expand understanding of the educational disparities facing Black girls while highlighting positive, effective solutions.
The film is available on Kanopy
Educational Licenses for schools, libraries, and community groups are available through Video Project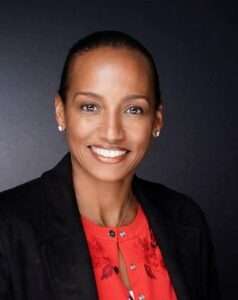 Denise Pines, MBA – A longtime community health advocate and media pioneer, Denise Pines is president of the Medical Board of California and serves on the Martin Luther King Community Hospital Foundation board and the admissions committee for the California University of Science and Medicine (CUSM) School of Medicine. She's a trusted resource for women as they pursue midlife wellness. She's the founder of WisePause Lifestyle Summit (www.wisepause.com), a pro-aging women's health and educational platform, and the FemAging 2020 HealthTech (www.femaging.com), a report introducing a new industry sector (FemAging tech), which is defined as health innovations developed specifically for women ages 40+. She's also is an award-winning filmmaker producing 11 documentaries including the award-winning film "PUSHOUT: The Criminalization of Black Girls in Schools" her next documentary, "Anthony Facui" will air on PBS June 2021. She's a graduate of San Francisco State University (BS), John F. Kenney University (MBA) and Stanford University (MBA).
---

The Academic Credentials Evaluation Institute, Inc. (ACEI), was founded in 1994 and is based in Los Angeles, CA, USA.  ACEI is a full-service company providing complete and integrated services in the areas of international education research, credential evaluation, and translation. ACEI's Global Consulting Group®, offers expertise in the following specialties: Media and Branding, Global Pathways, and Diversity, Equity and Inclusion (DEI) to interested institutions and organizations around the globe. www.acei-global.org