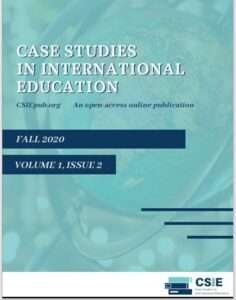 Case Studies in International Education, known as CSIE, launched its second issue with twenty new case studies covering a variety of topics such as, crisis-management, education policy, partnerships, social justice and more. This second issue included authors from all over the United States as well as Australia and China, bringing together diverse perspectives and situations to explore and debate.
CSIE was developed by Katherine Punteney, Carisa Crittendon, and Alexandra Roman to support professional development within the field of international education by providing open access, thought-provoking case studies that enable impactful conversations among educators. These case studies can be used in graduate classrooms, in faculty training, or in conference sessions. CSIE has twenty-five different focus areas, enabling a myriad of situations to reflect upon.
The CSIE collaborative review process serves as a professional development experience for the authors as well. Kathleen Hylen, commented on her experience, "It was an honor for me to have my real-life case study accepted by this new and much-needed publication. It was especially important for me that it be peer-reviewed, an invaluable experience." Speaking of her experiences with peer review, Chinese educator Xiangchong Pan said, "I do appreciate CSIE offering us this wonderful and valuable platform and opportunity to bring different cultures and experiences to share and discuss. This is very helpful for international education, and I have learned a lot through this program."
Dr. Punteney explains the intention behind the collaborative peer review process, "Many publications use blind peer review so that neither the author or reviewers know each other's identity. These publications may seek to be elite or exclusive. By contrast, CSIE seeks to be inclusive and to develop community. We want to nurture all potential authors. In this way, collaborative peer review is a much better fit for our mission of professional development."
The peer-review process connects three authors together to offer feedback and support on revisions until each case meets our publication standards. The authors share with us how much they appreciated this opportunity for growth, collaboration, and networking. As editors, we witness how this process enhances the drafts, resulting in enriched learning opportunities for readers. The submission process is easy to navigate and straightforward. Many of the authors are full-time professionals in the field, so we aim to ensure they have a stress free experience with reasonable deadlines and expectations while providing a rewarding professional development opportunity.
We are excited to have received so many submissions thus far and welcome authors for upcoming issues. CSIE hopes to welcome more international authors as it enables intercultural learning and networking. These opportunities for professional collaboration foster intercultural relationships, partnerships and understanding within the field of international education.
Our team strongly believes in the power of case studies. They help professionals in international education discuss complex scenarios in the field to the benefit of all stakeholders. Discussing case studies will help colleagues feel better prepared for professional challenges. Enabling individuals and teams to articulate their beliefs, values and philosophies, strengthens decision-making, program design, and student learning.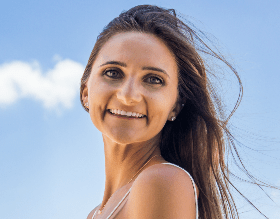 Elly Vogt is a Managing Editor at CSIE and a M.A. Candidate in International Education Management at the Middlebury Institute of International Studies. She holds a B.A. from the University of Iowa in Communications with a certificate in Entrepreneurial Management. She has worked as a project manager and marketing professional in Australia and San Diego. She also runs a small business that sells fair trade and sustainable products. Upon completion of her M.A., Elly plans to work in higher education, focusing on internationalization efforts and developing intercultural competence skills among students.

The Academic Credentials Evaluation Institute, Inc. (ACEI), was founded in 1994 and is based in Los Angeles, CA, USA.  ACEI is a full-service company providing complete and integrated services in the areas of international education research, credential evaluation, and translation. ACEI's Global Consulting Group®, offers expertise in the following specialties: Media and Branding, Global Pathways, and Diversity, Equity and Inclusion (DEI) to interested institutions and organizations around the globe. www.acei-global.org