April 22, 2021 Guide to Bogus Institutions and Documents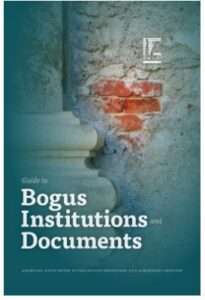 (AACRAO) releases a new publication — Guide to Bogus Institutions and Documents — which highlights the past, current, and future state of fraudulent institutions, diploma mills, and counterfeit documentation.
In addition to providing context and history, the authors provide recommendations for combating these issues going forward as many of them have been, and are, directly involved in efforts to combat these bogus institutions and diploma mills.
The trend of fraudulent or altered documents, awarding academic degrees and diplomas with substandard or no academic study, and also without academic approval by officially recognized educational accrediting bodies or qualified government agencies has been increasing.
AACRAO and the Association of International Credential Evaluators, Inc (AICE) have signed a memorandum of understanding to advance comparative applied education research in 2019.
AICE is a national non-profit association of credential evaluation service providers approved by the U.S. Department of Education. AICE is at the forefront of establishing standards in credential assessment, and the evaluation reports of its Active Endorsed Members.
In collaboration with AACRAO, AICE Active Endorsed Members have contributed to these chapters:
Throughout the book, authors give insight into the perspectives from a variety of sources including higher education, security, consumer protection, government, and law enforcement. By utilizing these and other sources throughout the writing authors provide rich contextual background to the overall narrative.
These two associations will continue to collaborate on research and publications and the crux of this partnership is the commitment to upholding the mutual recognition of AICE and AACRAO EDGE AACRAO's International Education Standards Council (IESC) standards.

The Academic Credentials Evaluation Institute, Inc. (ACEI), was founded in 1994 and is based in Los Angeles, CA, USA.  ACEI is a full-service company providing complete and integrated services in the areas of international education research, credential evaluation, and translation. ACEI's Global Consulting Group®, offers expertise in the following specialties: Media and Branding, Global Pathways, and Diversity, Equity and Inclusion (DEI) to interested institutions and organizations around the globe. www.acei-global.org