December 3, 2020
We are delighted to share this blog, previously posted on Rhythm Planet by our esteemed guest blogger Tom Schnabel. In this blog, he covers the legendary jazz musician John McLaughlin beginning with his recent performance with a group of international musicians at the Berklee College of Music in its European campus in Valencia, Spain. Join Tom as he takes you on this magical musical journey with John McLaughlin. ~ACEI
Jazz Legend John McLaughlin's Musical Magic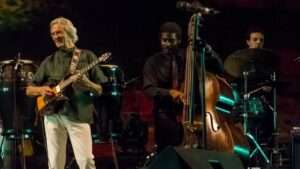 Written by Tom Schnabel (originally posted on Nov. 17, 2020 RHYTHM PLANET)
John McLaughlin performing at La Nit de Berklee in 2017Photo by Tato Baeza, courtesy of Berklee Valencia Campus
I recently watched an inspiring video of John McLaughlin performing with a group of young international musicians who were about to graduate from the Berklee College of Music in Valencia, Spain. The spectacular, modernist campus opened in 2012 and was the first international campus established by the renowned Berklee College of Music in Boston. The 2017 performance I saw took place as part of La Nit de Berklee, the annual commencement concert for the college. McLaughlin received an honorary doctorate that year and participated in the commencement festivities.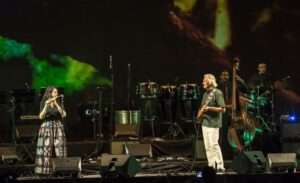 Photo by Tato Baeza, courtesy of Berklee Valencia Campus
The concert video triggered for me a number of memories about McLaughlin. I first heard him with Miles Davis in 1969 on the album In a Silent Way and as a member of The Tony Williams Lifetime group the same year. But it was McLaughlin's 1971 album My Goal's Beyond that really reeled me in. The music was influenced by both the guitarist's love of Indian music as well as his discipleship with his guru, Sri Chinmoy. One side of the record featured McLaughlin with a group of musicians including bassist Charlie Haden, drummer Billy Cobham, flutist/saxophonist Dave Liebman, tabla player Badal Roy, and tanpura (Indian drone) player Mahalakshmi. The flip side was solo McLaughlin. I listened to this seminal album all the time. It's an early example of world music, where musicians from various countries and traditions came together on a recording. Click here to listen
McLaughlin went on to form the jazz fusion group Mahavishnu Orchestra, and its 1973 album Birds of Fire was a musical tour de force. Later came his group Shakti, the Hindu word for the female principle of divine energy. Shakti's first albumin 1976 featured McLaughlin on acoustic guitar, violinist L. Shankar, Zakir Hussain on tabla, T. H. "Vikku" Vinayakram on the ghatam (clay pot percussion instrument) and other Indian virtuosos. Remember Shakti, a later incarnation of the original group, produced two beautiful records in the 1990's. I was fortunate to see Remember Shakti live in concert several times. Click here to listen
Given all this cross-cultural fusion in McLaughlin's history, I was not at all surprised to see him lead an international group of talented young players at the Berklee Valencia concert. I was particularly impressed by the bansuri (Indian bamboo flute) player and vocalist Rasika Shekar, with her joyful and inspiring interplay with McLaughlin on stage. The concert once again shows how music is a unifying force in today's fractured world.
In his remarks to the 137 graduates from 30 nations, McLaughlin said, "The role of music is today what it has always been in the past. It is the universal language of love, both human and divine. Music is our highest form of collective unity, since in any given concert there will be Christians, Hindus, Muslims, Buddhists, and atheists, all under one roof, enjoying music." Furthermore, "Whatever we give to music with love and dedication is repaid a thousand times over back to us in ways that defy categorization. To be a musician is one of the greatest privileges."
Here is the captivating clip from that memorable night—McLaughlin on guitar, Rasika Shekar on flute and vocals, Hooni Min on piano, Tabari Lake on bass, and Joshua Wheatley on drums. The musicians bring new magic to these two well-worn standards, "Stella by Starlight" and "My Favorite Things." Click here to watch.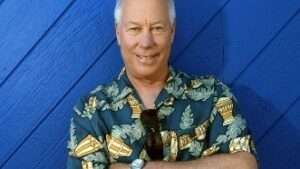 Tom Schnabel, M.A.  Tom Schnabel is an internationally recognized radio producer, pioneer, and innovator in world music. He helped introduce world music to American audiences as KCRW's first music director and host of Morning Becomes Eclectic (1979-1991). Tom is the author of two books (Stolen Moments: Conversations with Contemporary Musicians and Rhythm Planet: The Great World Music Makers), and numerous articles about music. He has produced a number of recordings (Trance Planet, vols. 1–5), and provides music supervision for advertising and movies. He has also served as Program Advisor for the Hollywood Bowl and Walt Disney Concert Hall, and continues to host weekly music shows for KCRW online.  His KCRW Rhythm Planet blog is approaching 500 entries covering all aspects of music.   http://blogs.kcrw.com/rhythmplanet/ In 1998 Tom was honored by the French government with the French Medal of Arts, Chevalier de l'Ordre des Arts et Des Lettres. www.tomschnabel.com
The Academic Credentials Evaluation Institute, Inc. (ACEI), was founded in 1994 and is based in Los Angeles, CA, USA.  ACEI is a full-service company providing complete and integrated services in the areas of international education research, credential evaluation, and translation. ACEI's Global Consulting Group®, offers expertise in the following specialties: Media and Branding, Global Pathways, and Diversity, Equity and Inclusion (DEI) to interested institutions and organizations around the globe. www.acei-global.org